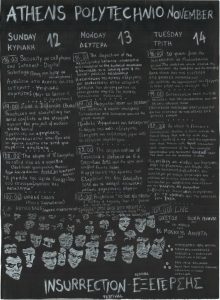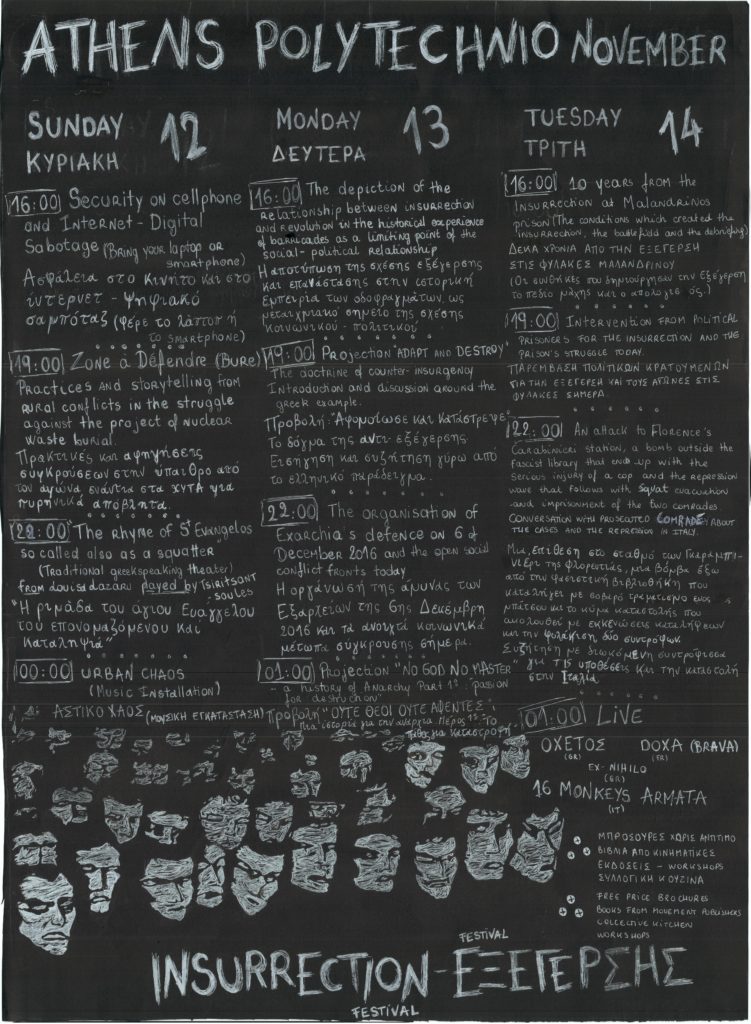 SUNDAY 12 NOVEMBER
16:00 Security on cellphone and internet / Digital sabotage
Bring your laptop or smartphone, and a usb stick (4 Gb enough)
19:00 ZAD Bure (France)
Story telling of rural conflicts in the struggle against the project of nuclear waste burial
22:00 Theater team Tsiritsantsoules
THE RHYME OF SAINT EVAΝGELOS SO-CALLED ALSO AS A SQUATTER by loyis lazarou
00:00 Music installation μουσική εγκατάσταση
URBAN CHAOS
MONDAY 13 NOVEMBER
16:00
The depiction of the relationship between insurrection and revolution in the historical experience of barricades, as a limiting point of the social-
political relationship
19:00 Projection
Adapt and destroy. The doctrine of counter-insurgency Introduction and conversation around the greek example
22:00 Past & Present

The organization of Exarchia's defense on 6 December 2016 and the open social conflict fronts today
01:00 Projection
NO GOD NO MASTER 'a history of anarchy'. Part 1o THE PASSION FOR DESTRUCTION (1840-1906)
TUESDAY 14 NOVEMBER
16:00 10 YEARS FROM THE INSURRECTION AT MALANDRINOS PRISON
The conditions that create the Insurrection, the battlefield and the de-briefing.
19:00 Intervention from political prisoners
INSURRECTION AND THE PRISON'S STRUGGLES TODAY
22:00 An attack to Florence Carabinieri station
A bomb outside the fascist library that ends up with the serious injury of a cop & and the repression wave that follows with squat evacuations and imprison of 2 comrades.
Information and discussion with the participation of prosecuted comrade from Italy.
01:00 LIVE
ΟΧΕΤΟΣ
NOVA ROMA
LA RU
CASE
ΚΑΡΤΑΣ
-StreetDog (marocco)
-Ex-nihilo
-DOXA from Brava (france)
-16 MONKEYS ARMATA (italy)
---
DURING the festival
free price brochures, books from movement publishers, workshops, collective kitchen.
insurrectionfestival@riseup.net
Follow updates here.